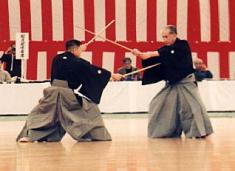 HYOHO NITEN ICHI RYU AND IMAI MASAYUKI SOKE LINKS

A collection of links to learn more about Hyoho Niten Ichi Ryu in general and of Imai Masayuki, 10th headmaster of the style, in honour of the 2003 Hyoho Niten Ichi Ryu Seminar with Imai Masayuki, in Guelph.

Hyoho Niten Ichi Ryu - Information on the style, lineage, Miyamoto Musashi and short descriptions of the techniques practiced in the style.
Dokkodo - Musashi's writings on "Self-reliance" (Dokkodo).
Profile of Imai Masayuki - A profile of the 10th headmaster of the Hyoho Niten Ichi Ryu and thoughts on the Go Rin No Sho (book of five rings). Follow the "Next" links at the bottom for more.

GENERAL INTEREST
The Electronic Journal of Martial Arts and Sciences
Many journals on martial arts, including the Iaido Journal, Physical Training: Fitness for Combatives, the Journal of Western Martial Arts and others.
The Japanese Sword Index
The definitive resource for Japanese Sword information on the web. Informational resources such as swordsmith names, visual glossary of the japanese sword, terminology, history and care of the sword, articles, endless links and more.
Mugendo Budogu
Online store for Martial Arts supplies, and a fine quantity of Martial Arts books and videos (in english and japanese).